Scouts (11 – 14 yrs)*
Scouts is for boys and girls aged 11 to 14* and is the most well known unit of the Scouting Movement – Scouts is where the action is!
*These ages may vary up to 6 months.
Life as a Scout
If you are passionate about action then you're a Scout! Everyday will make your adrenaline rush when you participate in a range of action-packed activities. Whether you're mastering the art of outdoor safety, participating in amateur radio shows and performing arts productions, or attending the ultimate Scouting adventure of a Jamboree, you'll learn life-long skills that you can teach your friends.
At Scouts you'll become a member of a Scout Patrol and your Patrol will work with other Patrols to form a larger Scout Troop. Together you'll make important decisions, set critical goals, and depend on each other to succeed. And when you do succeed, you can earn achievement badges!
What Can I Do in Scouts?
• Abseil into limestone caves
• Navigate the bush lands and challenge yourself in survival camps
• Take art classes
• Learn how to build bridges and flying foxes
• Talk to over 500,000 Scouts across the world on the radio
• Trek 30km up a mountain and camp at the top
• Take an overnight river trip by canoe
• Attend the ultimate Scouting adventure of a Jamboree anywhere in Australia or the world!
• Pursue your hobbies and gain new skills
Scout Meetings
Scout Troops, which are comprised of several Scout Patrols, usually meet every week to discuss their progress and work towards achieving their goals. Scout meetings consist of team-building activities, playing games, developing specialised skills and knowledge, and planning for weekend adventures and camp-outs. At meetings Troop members share stories and experiences of their recent adventures and offer advice to one another. Scout Leaders teach safety lessons on how to use equipment correctly and inspire their Scouts to be the best individuals and team players that they can be.
Scout Uniform
The uniform for Scouts consists of a blue shirt with green sleeves and collar.
They also wear the Queensland maroon scarf.
Scout Award Scheme
The Scout Award Scheme provides the main focus for Patrol and Troop activities and gives suitable recognition to Scouts for achievement.
There are three levels of Target badges. To achieve the Pioneer, Explorer or Adventurer Badge, the Scout must complete the two compulsory Campcraft and Citizenship Target badges, plus one of the six elective Target badges at each level.
Proficiency Badges: The aim of this system is to allow the Scout to develop in a challenging and interesting pursuit. To achieve a Proficiency Badge the Scout must fulfil requirements set in conjunction with their Adviser and which include the three elements of demonstrate/investigate, skill and an activity. There are 31 Scout Proficiency Badges.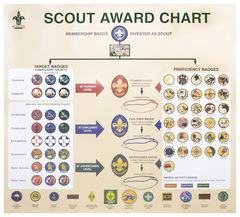 The Australian Scout Medallion is the highest award in the Scout Unit. It is considered the pinnacle of Scouting at this stage. To earn the Australian Scout Medallion a Scout must:
Participate in a Scout Leadership Course at any time after completion of the Pioneer Badge;
Demonstrate an active leadership role in Scouting;
Achieve the Adventurer Cord.